"Everybody is different, and every body is different." – Beverly Diehl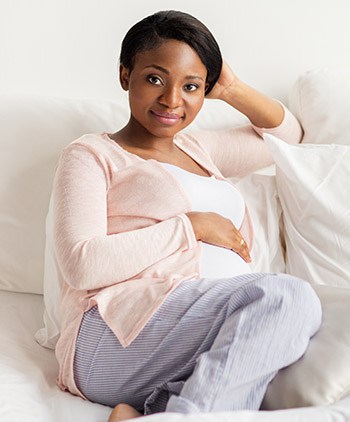 If you are experiencing any of the following when you are pregnant, consult with a Pelvic Physiotherapist:
Pain in your pelvis, back, groin or legs
Urinary or fecal incontinence
Pain with intercourse
Abdomen tenting when you lift your head off a pillow (diastasis recti)
Pelvic girdle pain with doing your everyday tasks such as rolling over, walking, or getting in/out of a vehicle
Vaginal swelling or varicose veins in the legs
Concerns or questions about preparing for labour and delivery
Pubic symphysis dysfunction 
What does the research say about pelvic floor muscle training during pregnancy?
Women who did Pelvic Floor Muscle Training (PFMT) between 20 and 36 weeks of pregnancy had a lower rate of prolonged second stage labour than women who did no training, less pregnancy-related low back and pelvic pain than those who did no training, less likely to have urinary incontinence at 36 weeks of pregnancy and 3 months post-partum. Click here to learn more.
The National Institute for Health and Clinical Excellence (UK, 2006) recommends that all women should be taught by a therapist how to perform pelvic floor exercises during their first pregnancy.
Postnatal Pelvic Floor muscle training significantly reduces urinary incontinence compared to routine postnatal care (Glazener et al 2001, Chiarelli and Cockburn 2002).
The benefits of starting a pelvic floor muscle exercise for the prevention and treatment of urinary incontinence is documented in this review.
During pregnancy 42% of women have urinary incontinence (Kari Bo, Siv Morkveed 2000) and 1 in 10 have fecal incontinence after childbirth (Hay-Smith et al 2008).
There is level 1 evidence that pelvic floor training with a pelvic physiotherapist who uses internal palpation is recommended to prevent incontinence both during and after delivery.
Perineal massage can be beneficial to the muscles prior to delivery.
Can I exercise while I am pregnant?
What are the contraindications for exercising while pregnant?
According to the SOGC Clinical Practice Guidelines, 2018 they are:
Weakened cervix
Growth-restricted fetus
Placenta previa after 28 weeks gestation
Uncontrolled type 1 diabetes, hypertension or thyroid disease
Preeclampsia
Multiple pregnancy of triplets or more
Unexplained vaginal bleeding
High blood pressure
Severe anemia
Ruptured membranes or premature labour
Other serious diseases such as heart or lung disease
"Take time to do what makes your soul happy." – Unknown
What do I need to think about while I am pregnant and exercising?
Drink lots of water during and after exercise
Wear a supportive bra and comfortable shoes
Wear layers of clothing
Incorporate proper kegels as needed with your exercises
Listen to your body- use the talk test to determine how hard you should exercise
What are the benefits of exercising while pregnant?
Helps your body get strong for labour and delivery
Helps with mood and increasing energy level
Improves bowel function and decreases constipation
Improves sleep
Helps with weight management
Why should I see a pelvic physiotherapist while I am pregnant?
Provide education on what is common during pregnancy
Discuss activities of daily living and safe exercises
Review transfers in functional way
Improve pelvic floor muscle strength
Discuss posture and positioning
Help prepare you for labour and delivery
Provide treatment for pubic symphysis pain, sacroiliac joint pain or low back pain
Do something every day that is loving toward your body and gives you the opportunity to enjoy the sensations of your body.
– Golda Poretsky